Tri-Trails Park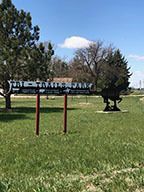 Tri-Trails Park is located at the geographic crossing of three major historic trails which passed through Keith County during the 1800's. 
Stop by the learn about the Oregon Trail, the Texas Trail, and the Pony Express. 
The 59 stones that you see placed along the roadway and outlining the garden were once part of the original 1888 Keith County Courthouse in Ogallala.