Western Paradise
A little bit of paradise, right here in Nebraska. Ogallala is the proud home of Lake McConaughy, a treasure that brings folks from all over to enjoy the serenity of the white sand beaches and the brilliant blue sky of Nebraska. Add great fishing, hunting, water sports, bird watching, and plenty of crystal clear water…paradise!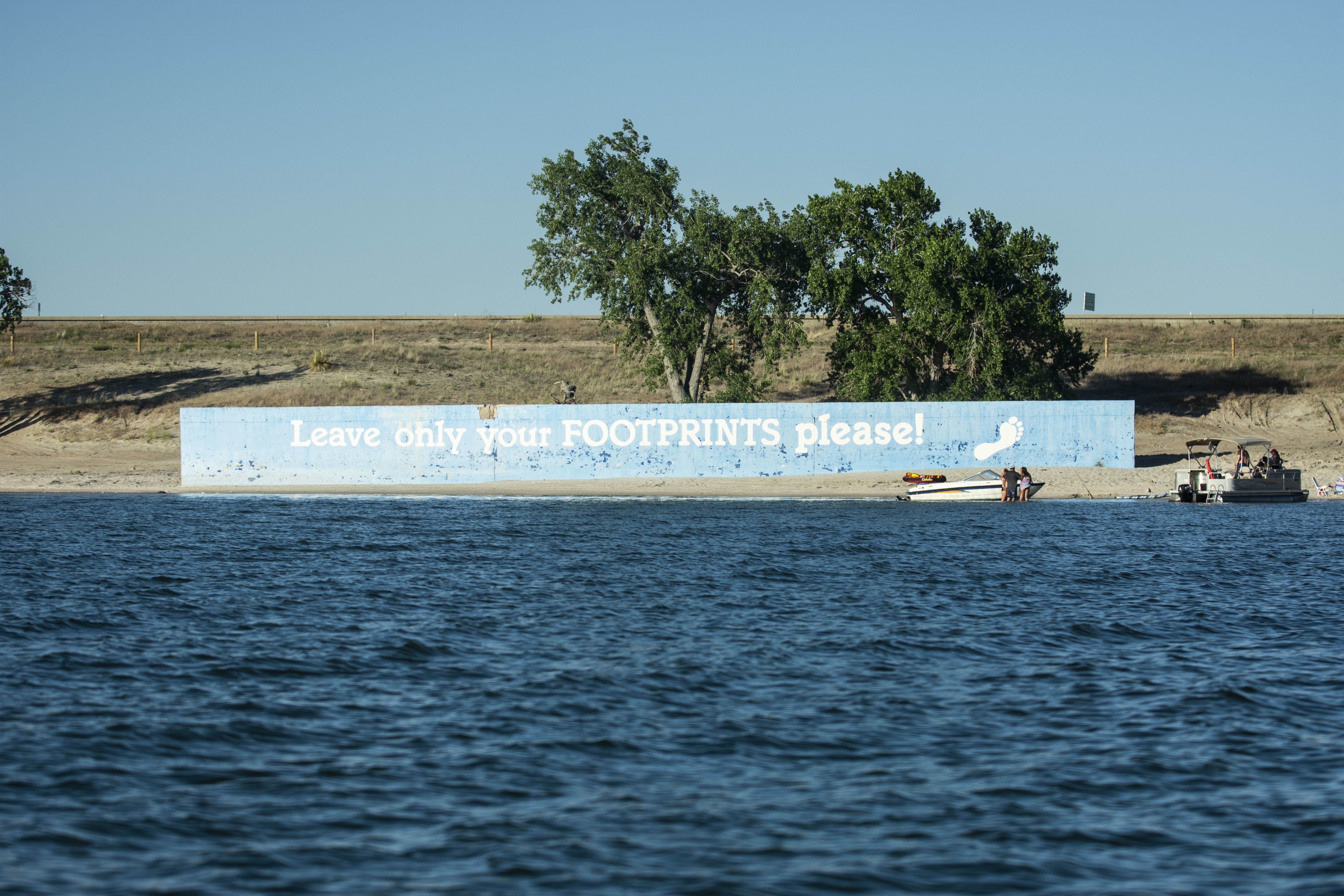 Lake Ogallala
Situated just below Kingsley Dam, Lake Ogallala is an integral part of the Lake McConaughy recreation complex. Known as the "little lake," it was formed when fill material was removed to build the dam. Lake Ogallala boasts some excellent fishing for rainbow trout and yellow perch. The lake is 1-1/2 miles long and a quarter mile wide. It has about 5 miles of shoreline and covers about 320 acres.

Fish
Fishing has long been the primary lure to Lake McConaughy with its cool, clear, deep waters. Game fish vary from sporty rainbow trout to the everyday catfish. Prized most highly by the local angler is the walleye, and Nebraska's current state record (16 lbs 2 oz) came from Big Mac.

Hunt
Come fall, when campers, anglers, water skiers, and other warm-weather enthusiasts pretty much abandon the lake, Big Mac becomes water fowl hunting territory. Clear Creek Waterfowl Management Area at the end of the lake attracts substantial numbers of Canadian geese, which can be hunted on the controlled shooting area, as well as much of the rest of the lake. Winter is an invitation to ice boaters, eagle viewers, skaters and backpackers, adding to the lake's year round appeal.

Golf
Keith County is home to two first-class golf courses—Bayside Golf Course located at Lake McConaughy and Crandall Creek Golf Club located in Ogallala.
Bayside is a traditional, link-style course with rolling hills and native grasses. The 18-hole course overlooks Lake McConaughy, and features an amazing 10,025 square foot log-cabin-style clubhouse. Crandall Creek is an 18-hole course with a mature, par 36 front nine and a back nine completed in 1997, making an excellent 72 par course.

Birds
The Lake McConaughy region is considered one of the richest ornithological attractions in the Great Plains. "It's the best place in the state and the third best in the country to go birding," according to University of Nebraska life science professor and author Dr. Paul Johnsgard. More than 320 species of birds have been identified in the area, as well as more than 100 breeding species. Bald eagle congregate below Kingsley Dam in the winter, with as many as 368 eagles sited in the area in one day.
Ogallala also offers nine parks covering 50 acres with 10 ball fields (seven lighted), walking trail, four tennis courts and five parks with playground equipment. Other recreational activities in Keith County include Cornhusker Lanes Bowling Alley, Goodall Recreation Center and Indoor Pool, two outdoor pools, historic Prairie Theater and Goodall Public Library.

For more information about Visiting Keith County, please visit www.lakemcconaughy.com.

Come enjoy a Western Paradise in beautiful Keith County!